We are very proud to be the preferred regional ÖSSUR Knee brace fitting specialists
Unloader Braces
To relieve the pain of an early osteoarthritic knee the Unloader One X features the Össur 3-Point Leverage System. This patented system is clinically proven to improve mobility by providing pain relief from unicompartmental knee OA or degenerative meniscal tears.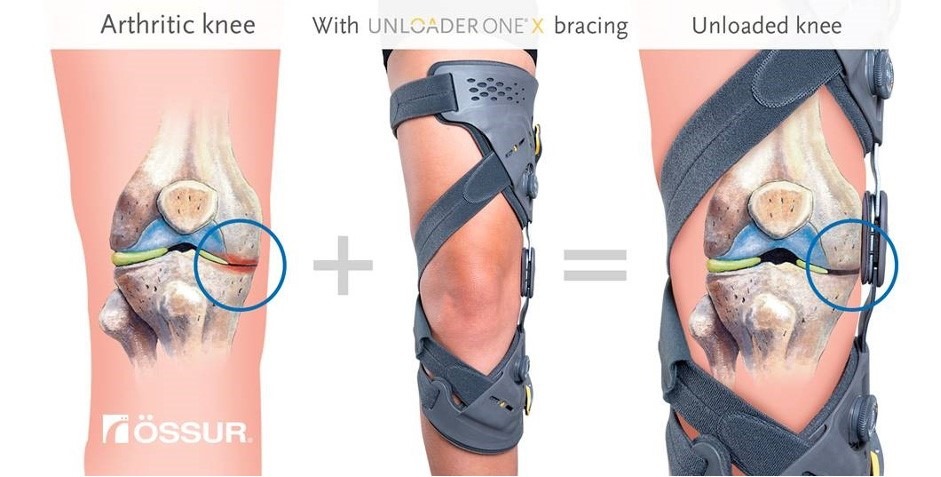 HOW DOES THE UNLOADER BRACE WORK?
A non surgical management for unicompartmental (one sided) OA (arthritic) knee pain.
Unloader braces unload the affected, painful side of the knee using a 3-Point Leverage System. The thigh and calf shells account for two points of leverage, while the Dynamic Force Strap (the diagonal strap above the knee) provides the third. This system "unloads" the pressure from the affected area, providing a reduction in pain. Unloader knee braces feature a lightweight, low-profile design, which is barely noticeable, and fits discreetly under clothing. Utilising the SmartDosing® dial with Boa® technology, it provides you with a simplified, single hand dosing dial for on-the-fly adjustability.
These knee braces are also covered by AXA insurance when prescribed by your knee consultant.
Recommended by specialists the Ossur unloader braces are high quality and offer a 30 day money back no questions guarantee if you decide the brace is not working for you.